Another Certified NLP Practitioner in India
You might be contemplating attending a Certified NLP practitioner course in India, and you might have a reason to do it.   If you don't have a reason and are just exploring it because it is the latest buzzword in the market, then that is not the right way to start on a certified NLP practitioner course in India, because you might just become another certified NLP practitioner in India.
Becoming yet another certified NLP Practitioner in India is not a bad thing, as you will have a certification (depends where you are getting it from, some are offering it for Rs 800/- as well – video-based course), and if that is the only motto you have got, then it is perfectly all right.
Having said that, attending a good certified NLP practitioner course in India, for the sake of having a certificate with no benefits or intention behind to learn NLP is like having a Ferrari car sitting in a garage with no key to driving it, and no intention of driving it.
If you intend to learn NLP from a perspective of doing something with it, starting from self where you want to learn it as a Self-development course to get better at what you are currently doing, with different aspects in your life, and to take it to the next level, then learning NLP can be a life-changing experience.
If your NLP trainer is spoon-feeding you NLP, in the form of NLP techniques/patterns then stay away from those NLP courses, as they are meant to create NLP Techniques Practitioners, not NLP Practitioners. NLP Trainer uses NLP to train, they create an environment of learning using humor, making it adaptive (application-based), rather than theory-based.  NLP is a highly experiential program where everything you need to know about NLP or becoming a Certified NLP Practitioner happens during the program itself.
Some questions to help you get clarity :
So what's your intention of becoming a certified NLP Practitioner in India?
Have you done your research in terms of what you want to achieve out of an NLP Practitioner course?
What is the intention behind the intention of becoming a certified NLP Practitioner?
Are you doing it purely for the certificate, or do you have the desire to learn it from a space where you can be the next brand ambassador of NLP?
Assuming you have already become a Certified NLP Practitioner, what do you see yourself doing?
How have you integrated NLP in your life, assuming again that you are an NLP Practitioner already? Anything else?
Are you searching for best NLP training
Do you see yourself using NLP for self, or with others?
  Different Levels of NLP Program: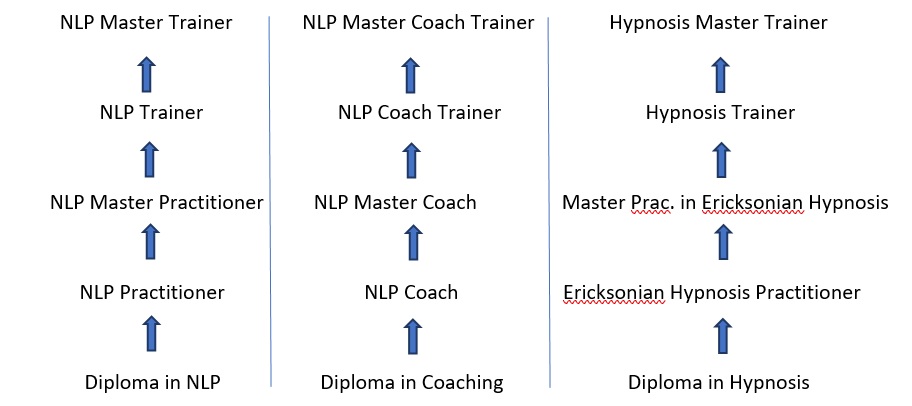 Diploma in NLP is a two to three days variation of an NLP training program and mostly happens in India as a taster program.  The actual program is the NLP Practitioner level, where some decent NLP can be covered.  If someone wants to go deeper into NLP, they take up NLP Master Practitioner level (after NLP Practitioner level), where they go deeper into the patterns, and modeling techniques of NLP, and applications of NLP in various areas.  NLP Trainer level is for someone who wants to learn NLP, Master it, and then teach it.  NLP Master Trainer level is a designation that someone who has been teaching NLP based programs has been doing it for a fairly longer duration (If someone is offering you NLP Master Trainer as a starter course, stay away from the course, as that is a pure indication of a fraudulent designation, which will not do any good, but might do more harm to you.  You will end up being an NLP Master Trainer on paper with no skills)
The different levels of NLP Programs can be achieved during the same program by making it integrated.  A good NLP Trainer, NLP Coach Trainer, and Hypnosis Trainer (if they are using NLP as a framework for their work), can help a participant to attain each level (Diploma, or Practitioner, or Master Practitioner) in the same program.  Some trainers keep some of the elements modular in nature, and some of the levels like Hypnosis or advanced Hypnosis will be offered as a totally separate module, and that is just a segmentation to keep all interested participants in a separate yet same program rather than integrating too many elements in the same program.
If you are clear about what you want to do in life, and how NLP can become a part of who you are and what you can become, then go for it, otherwise don't waste your time in becoming yet another certified NLP Practitioner in India.